Planned shows
December 8th 2023 Berlin (DE), Never Surrender Fest
March 16th 2024 Oberhausen (DE), Helvete
April 13th 2024 Lublin (PL), Blast Fest
June 14th - 16th 2024 t.b.a.
July 6th 2024 Trutnov, Battlefield, Obscene Extreme Fest
November 9th 2024 t.b.a.


News 2023
News November, 23rd 2023
Brand new shop items: Zip-Hoody doublesided and Logo-Beanie, both available now. Hurry up to get the size that fits for you!
News October, 11th 2023
Due to the death of a next of kin, it is with a heavy heart that we have to cancel our show at Old Grave Fest in Bucharest. Some of us will still be there for you to answer your questions and offer some Blood merchandise. We will make up for it, we promise!
News September, 29th 2023
Italy 09/22 + 23 2023
After the planned mini-tour to Italy didn't work out last time, it should be now. Unfortunately, only two of the three planned shows remained: on 9/22 in Erba (near Como) and on 9/23 in Bologna.
The journey turned out to be very exhausting and took much longer than expected. But the Centrale Rock Pub in Erba compensated for that - the organizer had a really cool concert location at the start. Unfortunately, not as many people showed up as expected, but with only two opening bands, we had a really great time on stage and were celebrated with blood and sweat—wonderful!
The next day we went on to Bologna, where we had a few hours for sightseeing. Bologna is a really special city in the heart of the country, known especially for its culinary delights and the two towers. Later, we went to the Freakout Club, a very small club but one where you immediately get a fierce atmosphere even with few visitors.
It was much more crowded than the day before, and the 3 opening bands were also all very powerful and brutal. Very late, we should enter the stage, to be allowed to experience the complete madness here as well. You have sung so loud—this was incredible!
Italy, we'll be back for sure ...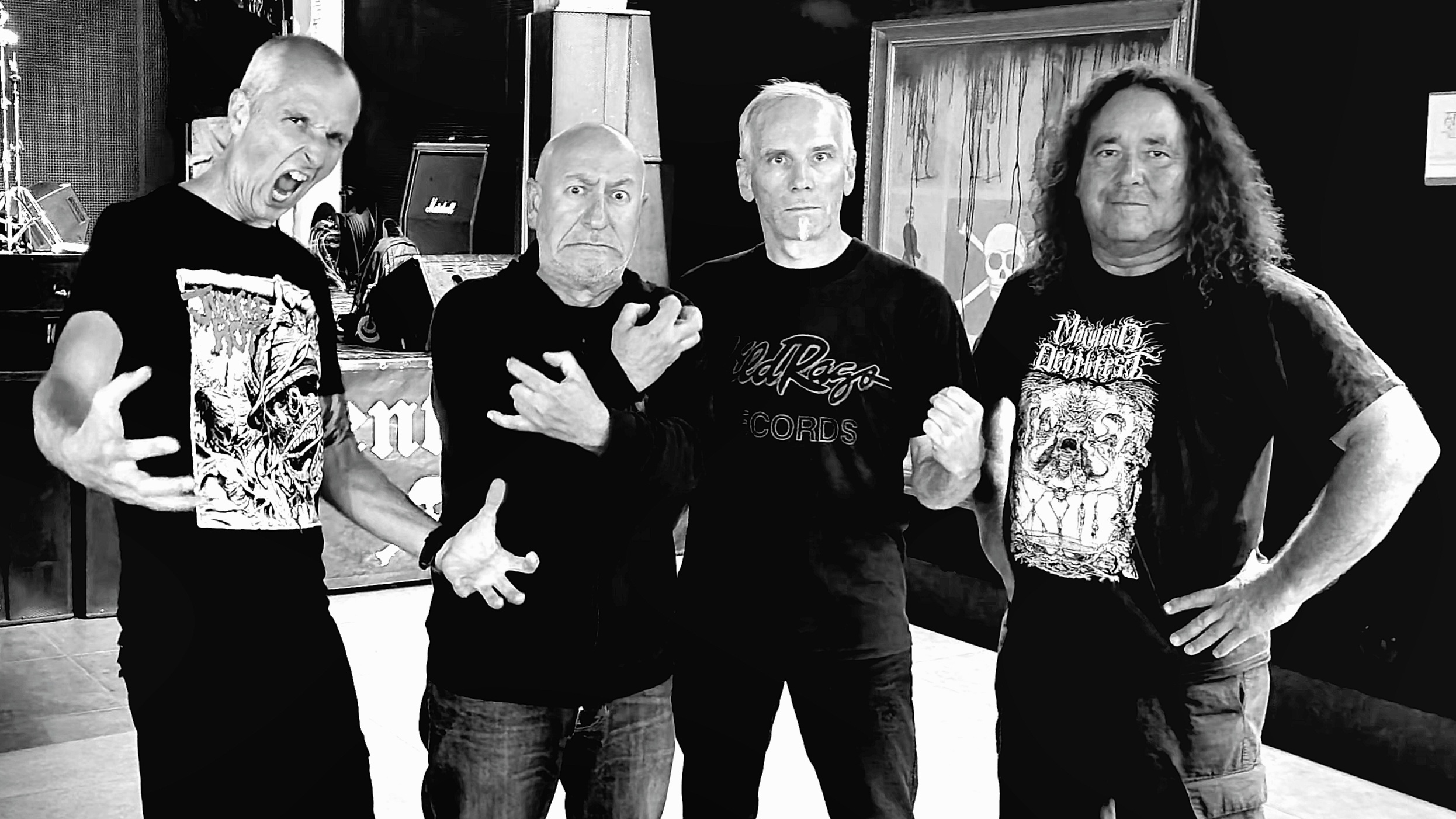 News August, 17th 2023

Blood - new line-up
Due to several problems we part ways with Chuck, so we are now a 4-piece: Martin Witchskinner - vocals, Destroyer Eisen - Guitars/back vocals, Satanic Taki - bass and Ventilator - drums.





News June, 16th 2023

Blood - Demos IV + V + VI
The 3 Demos Heinous Noise (4th Demo), Spasmo Paralytic Dreams (5th Demo) + No Regret (6th Demo), were released by Diablos Records - Mexico on CD - with a lot of cool old photos and "liner notes" by Destroyer Eisen. Unfortunately on the first pressing something was messed up in the tracklisting: The Demos are in the order 4, 6, 5 on the CD, instead of 4, 5, 6. The repressing is already in progress. Soon, the CD with the correct song order should be available.

Also brand new available: the complete 7" + live discography 1990 - 2015 now released on double tape by Grindfather productions.





News June 01st 2023

Blood - Nice to eat you - Festival May, 20th2023
Wow - that was a bomb: the 10th NTEY Fest for the 30th anniversary of Fleshless. The organization was once again unique, as it should be for an underground festival - very familiar and no place for commerce. Unfortunately, we couldn't get there until Saturday, because a car caused us problems, but Martin Witchskinner and Destroyer Eisen were allowed to do a little video interview in honor of 30 years of Fleshless... that will be published professionally later.
Since Chuck couldn't travel with us for family reasons, we had to do the whole thing with just four of us - the original "Impulse to Destroy" line-up - and it was a party! This was also ensured by the other bands of the evening, especially Mastic Scum, Pandemia, Inhumate and of course Gutalax. Here are a few photos of them! It was awesome to see so many old friends again and meet new people.





News March 22nd 2023

Blood - live HD Deathfest March 18th2023
In Heidelberg the Deathfest should take place, but not just any Deathfest, but a sold out one with 1000 people and top-class bands (Asphyx, Benediction, Schirenc plays Pungent Stench...).
On top of that, it was an absolute home game for us - after all, it's been a while since we played in our home-area. Of course it was an old-school meeting with so many long time friends. Besides that, there was of course an absolutely crisp 30-minute set, without taking any prisoners - so many bands on one day, that of course has to go bam, bam.
A perfect organization from merch sales, set-up help to catering - every wish was fulfilled. But the most important thing was the sick crowd itself and it carried us insanely - for that it is worth to give everything even after 37 years of Blood.



Older news: