News 2014:
News December 27th 2014
What a finish for 2014! Finally, after 10 Years we were back in bella Italia. It was a tremendous fest with countless great friends and fucking cool Bands. Too bad, Cripple Bastards had to cancel their show, but with Raw Power there was an amazing replacement at the stage.
...Jesus never lived!

News October 29th 2014
Wow – we didn't expect such an amazing show here in Erfurt. At 8 PM only a very few people entered the hall to see the first Bands. But as the last 3 Bands started, the hall became fuller and fuller. Mucupurulent did a cool job and makes lots of fun. So did the very friendly Humilation with their exotic background and true Boltthrower-styled Death Metal. Then for Martin Witchskinner it was the first show in Germany with Blood since 21 years! And what should I say... it was fucking awesome. The crowd ruled that much. Sorry, fo been so short, but things will go on slowly to get a bigger and bigger set of songs ready.
News September 28th 2014
It had to take 29 years, before we introduce you our first oversea-tour. For April 2015 we'll destroy Mexico.
Here is the first pre-flyer. More infos like exact dates and places will follow very soon!
News September, 27th 2014
Normally here we would tell you how genious our show in Italy September to dismember was, but Ventilator had an accident right before the show, that we had to cancel it!
Hopefully he will make it to the next show end of October in Erfurt.
News August, 30th 2014
Finally back from Fekal Party (Prague)! The show was absolutely amazing for us... Remember it was the first time with the actual line-up, so we all were very nervous, especially Martin Witchskinner after his 21 years away from Blood and his first gig with us since 1993. He made a brilliant job and we loved to be there! Hope to get some cool photos very soon for you. It's so fucking great to have this old-school feeling back.
View video here

A few giant shots
News July, 17th 2014
After 3 years of planning it is finally out: The tribute to BLOOD. Over 65 minutes of music by 34 different bands, such as: Holocausto Canibal, Lividity, Depression, Mastic Scum, Mixomatosis, Parricide, Anal Grind, Anatomy, Ancient Necropsy, Bomberos, Bowel Stew, Cannibe, Degerhate, Discharge by Death, Ebanath, Epicrise, Exegutor, Grind Division, Holy Cost, Magistral Flatulences, Necrocannibalistic Vomitorium, Nepente, Olocausto, Pene, Rancid Flesh, Seeking Obscure, Septory, Slaughterhouse, Snuff, Spermbloodshit, Stickoxydal, Tiran, Twisted Truth, Virulent Blessing among others!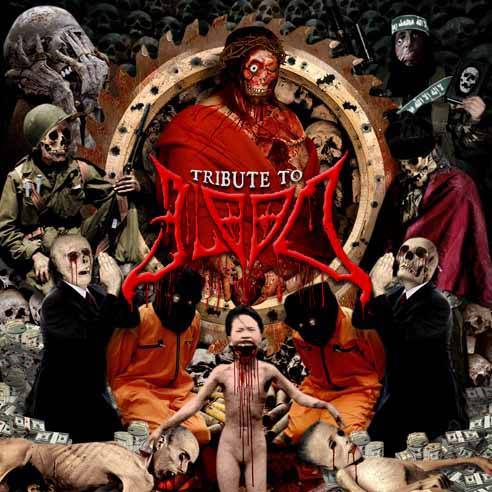 You should get this killer release at: Burning Dogma Rec. [us], Alarma Rec. [mx], American Line Prod. [mx], Hipermenorrea Rec. [mx], Rot Rot Prod. [mx] and Purulent Grinders Distro [mx] ...search the net for that!
News June, 3rd 2014
After the rumours the latest few months we recognized ourselves and luckily introduce you along with our 28th anniversary the original Blood line-up of 1988:
Martin Witchskinner – Vocals
Destroyer Eisen – Guitars, back vocals
Satanic Taki – Bass
Ventilator – Drums

We have to say good bye to our two faithful followers Clausi the Corpse and Hanzi the Snail, who were in the band since many years. Hellish greetings to you and best wishes for the future!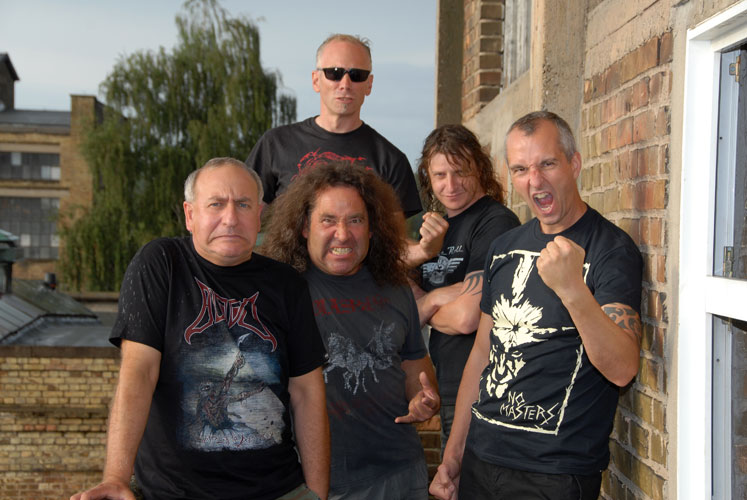 Martins words:
Hell-o brethren of the shadows, Even I still can´t believe it myself, I´m back in the circle of Germanys most wicked grindcore warriors. After a momentary delay of 21 years, it´s time to proclaim war again and make the pillars of the temples tremble and shake. I hope to meet you guys out there, check out Germanys oldest (and I mean that!) christcrushers and get the chance to see us play live again in the infamous line-up of 1988.
Martin 'Chicken' Witchskinner
Mannheim, Rhein Neckar Metal Festival May, 3rd 2014
The Rhein Neckar Metal Fest is an institution since many years. It was a honor for us to play there and to meet many old-school friends and brothers. Hail to the old days!
After the differences in the band we made Gianny Cutrona play a whole set on the drums for this show. And what should I say: it was nearly perfect although we never rehearsed with the whole band before. The crowd went really mad and we had a great time together with them, but look of what I talk...