BLOOD - backflash 2001:
On january, 6th.2001 we had a cool show in Dippoldiswalde (East-Germany) along with Warspite, Purgatory and the old veterans Disastrous Murmur. Here are 2 little shots:

On the weekend february 23/24/25th we did a mini tour with the dutch grindkings INHUME. The first show was in PANNINGEN, the second was only a rehearsal-Party in LOTTUM and the third was at the grind over ROTTERDAM festival along with OBSCENITY, SQUASH BOWELS, GENOCIDE SS and ENTRAILS MASSACRE - a fucking killer show... We had a cool time with the guys of INHUME and a big fight against fucking carnival!!

During the year we started working out some new songs. We have 8 songs ready. Some tiltles are: DISGUSTING SPECIES, SMALL HEAP OF NOTHING, BEAST IN THE VEIL, MALEDICTED, SQUADRONS OF HELL, STAINED HOLYNESS, THE HERETIC... Things are going very slowly, but continuous like an heavy tank is rolling over you!! The latest release was the full BLOOD 7" called MASSACRE with 6 new studiosongs. It´s out on KETZER DISTRIBUTION since mid-April 2001.

some shots 2 weeks before the 2001 death fest in Ludwigshafen - september 2001!
Here is the Death-fest report from September 9th 2001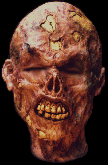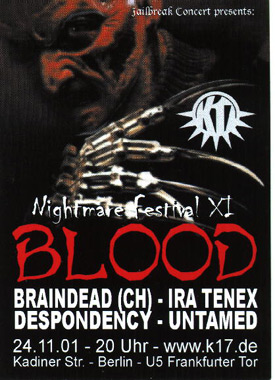 November 24th we had our last show for 2001. After nearly 7 years our first show in Berlin again. We had a great time there. The organisation was perfect - the place was a bit small, but so we were much closer to the crowd. The first band was UNTAMED with some rocking Death (?) Metal - nothing special. Next was DESPONDENCY, a brutal Death Metal Band from germany. On CD they sound very tight and brutal, but on stage they were a bit boring, but I think this belongs to the bad sound. IRA TENEX was the third band of this evening... and the best. Very brutal and fast Death/grind - a good newcomer!! After that BRAINDEAD from suisse entered the stage. The sound was very clean now, but I don´t know, what kind of music they did... The singer was total painful and shitty. The worst thing was a cover version of an fun-song called "ö lapalöma blanca" - nothing more to say!! We met many cool and "old" people and were totally drunk after this night-mare! We hope to return to this place in 2002!