News 2009:
Wismar, Fellfresse November, 28th 2009
Fellfresse called Blood for the last show in 2009. Situated in the heart of the old town, the show had to beginn and end not too late, so already at 8.30 PM Sanity's Dawn were at the stage to let the earth quake. Our time came an hour later, and what should I say? It was an incredible horrible show for us and for the crowd. The next morning we had a very nice breakfast at the harbor and a delicious fish-sandwich is an absolutely "must" in this hanseatic Hell...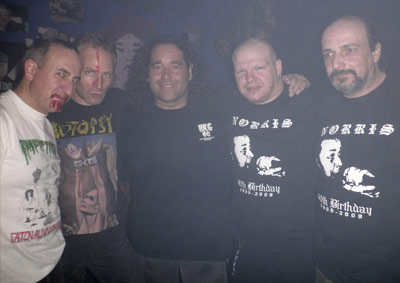 Stavenhagen, Arschcholio Open Air, May 23rd. 2009
Our last show was a bit weak, so it was the time to kick some real asses tonight. The open-air location is so fucking great and also the hall that lies very close to the open air stages looks like there are hellish shows if the weather is bad. The friday there was an amazing rainshower, so there weren't that much people there. On 2 stages many different-styled bands rocked the crowd... a real "fullbeat". Too bad some well known bands had to cancel their show (Dead, Malignant Tumour...). We had a brutal fat gig and were totally pleased. After that it was time for camping, but the bloodsucking plague threated us.
thumbs up!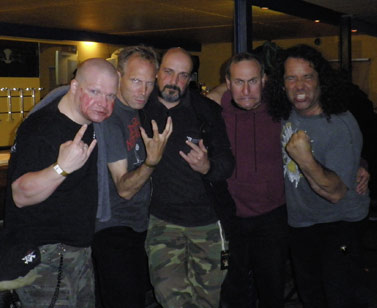 Bitterfeld, Festung Apr. 25th. 2009
Too bad only a very few people found their way to the "Festung" this night. The bands couldn't be the reason for that, because near Blood, also Pandemia and the incredible Pessimist (US) gave a brutalizing show. Taki had no spare time, so it was a strange feeling to play without bass. Before the end of our show a string broke and so we had to flood this gig with tons of beer.
Cottbus January, 17th 2009
In this frozen night we should play the hardly to find "Muggefug". Only 3 Bands this night - what an recovery after those "Marathonfestivals" in the near past. Too bad that the crows whas not as big, as expected, but those few were killer as hell! It was lots of fun to kick your asses... grind forever!