Backflash 2006:
March 25th 2006
To our 20-years anniversary there was a huge party in our diabolical rehearsal-room.
The running-order was:
18.15 to 18.45: King George
19.00 to 19.30: Tombthroat
19.45 to 20.15: Point Zero
20.30 to 21.00: Ab:Norm
21.15 to 22.00: Blood

During the breaks DJ Felix gaves you Metal up your ass - What a fest!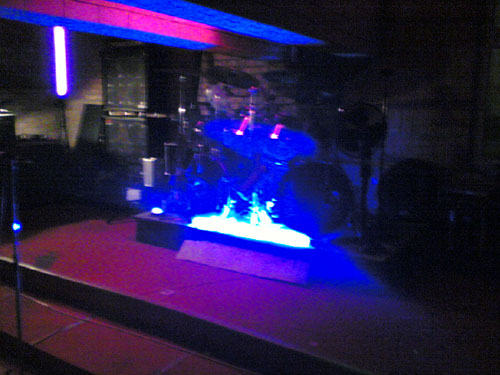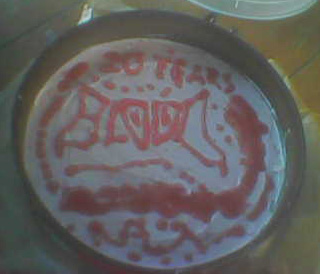 Backflash:
Oh yes, the party's over...

our final words goes out to all bands, friends and helping hands. A big:
thank you for all your enthusiasm and your nice gifts.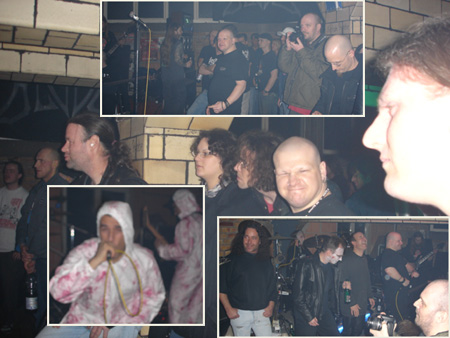 All in all it was a giant and colorful kick-ass-fest on which everyone
have had his maximum fun.
No one would have known before that the beer was running out at 10 PM
and so the fuel-stations around had to bleed for us ;-)
We needed over 250 liters of beer, 25 bottles of wine and a chest full of
different hard drinks and 5 more chests of non-alcoholic drinks.
During the whole day 140 fans, friends, faithful companions and other
admitted guys entered the bloody tower.

In a very early time (4 PM) nearly 20 people awaited the opening of the
doors.
First some small things would have been aranged, DJ Felix (Ab:Norm,
Crematory) took a look at the stereo and started to bring our guest in
an murder-tendency.
At 6.15 PM the first steaks an sausages were ready to be eaten and
"King George" entered the stage to start their program.

"King George", name their style Latin-Metal. They stayed in our rehearsal
room for over a half year. They kicked some ass with their very funky
sound. Also some of the true grind-fans were very amused by their
sovereign program.
The band made a good job as opener and got a very good response...

After "King George" "Tombthroat" (a real brutal death-grind band of our
area) should have entered the stage, but their guitar player "Björn" had
an heavy Pneumonia, so he was in hospital (we wish you a very good
improvement !).
The remaining members tried to perform a few songs with only one guitar
(no bass) and what should I say: they totally ruled!! Thanx for that!
Lately now you know: the party was in full throttle!
More and more people arrived, and the crowd became more and more
omitted due the flood of beer!
Betty and Taki had lots of work at the drinks-stand and also Silke, Manu
and Ventilator gave the hungry mob flesh to eat.

Then, at 7.30 PM "Point Zero" from Ludwigshafen started in white and
blood-sprayed coats to grind everything to ashes. Louder and faster than
hell they rocked also the last bored leg.
Point Zero had to play some more additional songs for the screaming crowd.
Grinder of the older generation inhaled their freshness with much fun and
know that grindcore in germany and in our area is not dead.

After Point Zero it was time for Felix to shorten the break 'til "Ab:Norm"
started...
Many well known persons joined us to death:
Migge, Winni and Vöhri of the incredible Belching Beet, some guys of
Deathcore and Noisefilter, Lücke (Ex-Amorph Pneuma, now Anodyne 29),
Sanjaj (Crack a Smile), Ezpharess (Mystic Circle), Aaarrrgon and Mephisto
(Ex-Mystic Circle) and more...
Pix hopefully soon!
April, 8th 2006:
Meissen arised from the flood, we destroyed it again! In the cultureclub Hafenstraße we played along with Facehugger and Ab:norm. The small crowd who found the way to the show should become witness of a very special event. A CD and T-shirt lottery and lots of Blood Fire death! The Organisation was an absolute killer and the sleeping place along with the phantastic breakfast were first class!
May, 12th 2006:
For the second time we should play at the Scheddel in Leipzig. The 2 locations changes every time, so this day the show was in the Moritzbastei - medieval walls, who are under monument protection. Maximum mystic and powerful!
First Band of the night was Bloody Maria. They tried very hard, but the crowd was not so much into them. Maybe the sound was not very heavy or it was a bit too early for the Leipzig-grinders.
Second Band was Defloration. They were much better and tighter. Also the sound was more brutal and the singer with more then 2 Meters had a voice like hell - amazing!
After we finished with eating it was time for us to enter the stage. Again the sound was a bit better than before and people enjoyed us a lot (as I've seen in their faces ;-)). Take a look at this:
Last Band was Disbelief. With their "Obituary"-like-sound they were very heavy and the mad crowd celebrated them a lot. We made Party til 6 in the morning, took a few ours sleep to went back home the next day... broken, but lucky! Once again: an amazing night of Terror!! Thaxx Ringo, Marlene, Andrea... and and and for the giant organisation!
Here two more shots:
| | |
| --- | --- |
| | |
| Ringo (Organizer) + Ventilator | Clausi, Eisen, Ventilator, Taki |
Photos of the Show in Geel (Belgium) December 2005 and Meissen April 2006
30.12.2006:
No Fillers, Just Killers Festival, Pfeldelbach
After the cancelled show in Koblenz now it was finally time to do it again. And then also still such an enormous setup! Unfortunately we could not rehearse directly before the show, so that we jumped into the cold sea. And then this: a hall full of mad grinding people. Surely 350 - 500 of it (I am not able to give the correct number). Unfortunately Eisen landed 6.50 PM in Stuttgart, so that he and Taki arrived after 8 PM in Pfedelbach. Anal Whore started to play so there was not much time to get a little Beer and a Sandwich, tuning the guitars. Then it was time for us to enter the stage. The Crowd was the absolute hammer and the sound was really a wall!! Simply fucking amazing. We must become so old to have one of the best shows ever... Thumbs up!
Photos from "Feierabendblog"
And another year is gone...